We Keep Us Safe
Disaster Relief and Mutual Aid in 2019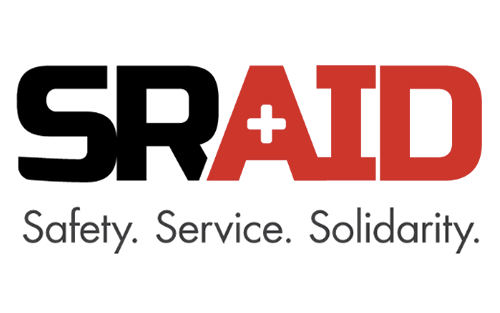 The Socialist Rifle Association is dedicated to building a left wing gun culture and teaching members of repressed and
marginalized groups how to defend themselves. However, firearms and self defense are only a small part of our larger
philosophy of Community Defense. It isn't enough to defend yourself or your community from violence and hate; we must
also defend each other from the hardships of capitalist society, and from the destruction caused by natural disasters
fueled and worsened by manmade climate change. Often, the most radical acts of political change we can engage in are
displays of compassion and mutual aid.
Christchurch Victim Fundraiser
On March 15, 2019 a white supremacist committed a vile terrorist attack against two mosques in Christchurch, New Zealand
during Friday Prayer. 51 people were killed, and 49 were injured. The SRA stands in opposition to fascism and white
supremacy, and in the name of internationalism and mutual aid we created a fundraiser to donate to the survivors and
the families of those killed. Over the course of two weeks the SRA raised $8,988 ($8,351 after taxes & fees), which
were donated to the New Zealand Council of Victim Support Groups.
Hurricane Dorian
The SRA conducted its largest disaster relief effort to date in preparation and response to Hurricane Dorian. A
Category 5 storm, Dorian devastated the Bahamas before threatening the lower Atlantic coast. With the prospect of
160mph+ winds and record breaking flooding, the SRA rapidly organized three response teams in three states, and started
a fundraiser which ultimately raised more than $6,000. We spent nearly $3,500 on supplies, including food, water,
toiletries, tarps, tools, and fuel. Four volunteers from the North Georgia chapter; three volunteers from the Upstate
South Carolina chapter; and seven volunteers from the Triad and Triangle North Carolina chapters formed response teams
and prepared for landfall. Three volunteers in Illinois, Tennessee, and South Carolina also worked together to relay a
car load of donated supplies to the South Carolina team. Including national coordinators, a total of 19 volunteers
worked together to make this relief action a success.
Fortunately, our efforts were not sorely needed. Dorian skirted the coastline and only briefly made landfall in
Hatteras, North Carolina on the Outer Banks. Our South Carolina team delivered their supplies to a community center in
Summerville, South Carolina, to be distributed to the homeless and poor families. The volunteers then used their
chainsaws to help clear fallen trees out of roads and yards. The North Georgia and North Carolina teams traveled to the
Mutual Aid Disaster Relief warehouse in Lumberton, North Carolina, where half of their supplies were donated to help
the local Lumbee Tribe, which is still recovering from the damage their community received from Hurricane Florence the
year prior. North Georgia and North Carolina volunteers then drove to Wilmington, NC where most of the rest of the
supplies were donated to a local black community non-profit to help poor families and immigrants in the area. Reusable
items like chainsaws, tarps, and protective gear were kept to be used in future disaster relief actions.
The Dorian relief effort served as an excellent test of the SRA's ability to fundraise, coordinate, and organize large
scale disaster relief efforts. The supplies we donated will go to good use serving vulnerable populations, and the tools
and experience we gained will go a long way toward making sure that we are able and ready to respond the next time a
major hurricane makes landfall.
Tropical Storm Imelda
While Dorian did relatively little damage to the mainland US, Tropical Storm Imelda managed to do a surprising amount of
damage in southeast Texas despite its modest size and windspeed. Imelda caused widespread flooding throughout Houston,
Beaumont, and surrounding cities. While local chapters were not ready in time to conduct an immediate response, several
members did volunteer and organize to help with the cleanup efforts.
Three SRA members from Houston, Austin, and College Station traveled to Beaumont and coordinated with Mutual Aid
Disaster Relief to help rebuild the community. $1500 of leftover funds from the Dorian fundraiser were spent on food,
water, and diapers, which were donated to the local community. Our volunteers helped distribute these supplies and
others to multiple affected apartment complexes in minority neighborhoods.
Disaster Relief Trailer
The remaining funds from our Dorian fundraiser have been put toward the purchase of a 14 foot, 2 axle trailer, which
will be outfitted over the next year with a generator and fridge, to serve as our official Disaster Relief Trailer in
future hurricane relief actions. This will allow us to haul a greater quantity and variety of relief supplies directly
to the most affected areas of a disaster zone. The trailer will be kept and maintained by our Regional Disaster Relief
Coordinator in North Georgia.
Mutual Aid for the Unhoused
Community defense goes far beyond just disaster relief, however. It also means supporting and helping the most
vulnerable people in society, the folks who have been chewed up and discarded by the inhuman machine of capital.
The unhoused, the homeless, suffer immensely from lack of food, shelter, and clothing, as well as harassment from the
police. For this reason many of our chapters have engaged in Mutual Aid projects, to feed, clothe, and protect those
who need it most.
The State of California, in 2018, suffered one of the worst fire seasons on record, with tens of thousands of acres
going up in flames and huge clouds of smoke covering many of the state's largest cities. Our San Francisco Bay chapter
observed the unhoused in their community suffering from symptoms of smoke inhalation. On the streets, without filters
or air conditioning, the homeless were exposed to dangerous levels of particulates almost 24/7. So, in 2019 the SF Bay
chapter started a fundraiser and ran a donation drive at the San Francisco Pride Parade, and raised over $1,200. This
money was used to purchase particulate filter masks, to distribute to the unhoused during fire season. The chapter
purchased over 1300 masks and worked with local mutual aid organization Punks With Lunch to distribute them to those
in need. Extra money was saved to spend on additional masks for next year's fire season.
Our Milwaukee chapter started a program to distribute aid kits to unhoused people in their community, distributing food,
socks, and toiletry items directly to those in need. Later in winter they started a coat donation drive to help folks
survive the winter chill. Following their lead, the Front Range, Colorado chapter started a coat drive and collected
over 50 pounds of clothes, which were distributed to the homeless in Denver along with a hot meal and toiletries.
The Michigan chapter of the SRA started a fundraiser for a blanket drive and managed to raise far more money than
they anticipated – over $2,600! They are working with Food Not Bombs and other community aid groups to purchase and
distribute blankets, coats, boots, socks, and other needed items to unhoused people in Detroit, Flint, and other
Michigan cities. A short hop south, the Northeast Ohio chapter, based out of Cleveland, raised $700 for the same
mission, and is working to purchase and distribute blankets, coats, and socks as well.
---
New Program Name
We are pleased to announce that our future Disaster Relief efforts will be conducted under a new unified program called
SRAid, which will help streamline our relief efforts and differentiate our Mutual Aid actions from our regular range
days and political activities. In the future we hope to spin off the SRAid program as a standalone nonprofit charity,
to work alongside the broader SRA nonprofit political organization.
The Socialist Rifle Association is proud of each and every one of our chapters and members who engaged in Mutual Aid
and Disaster Relief actions this year. Their actions are a shining example of the culture of solidarity and community
defense we want to foster. In 2020 we hope to do as much or more to help those in need, whether that be in response to
a hurricane or earthquake, blizzard or fire, or simply to help those who have been left behind by a society that
doesn't value them.
In this age of selfishness and alienation, it is up to us to stand together and provide for one another. We protect us.
We keep us safe.